"The Heart in Monoceros" Strottner-Drechsler 44
Published 21 Feb 2022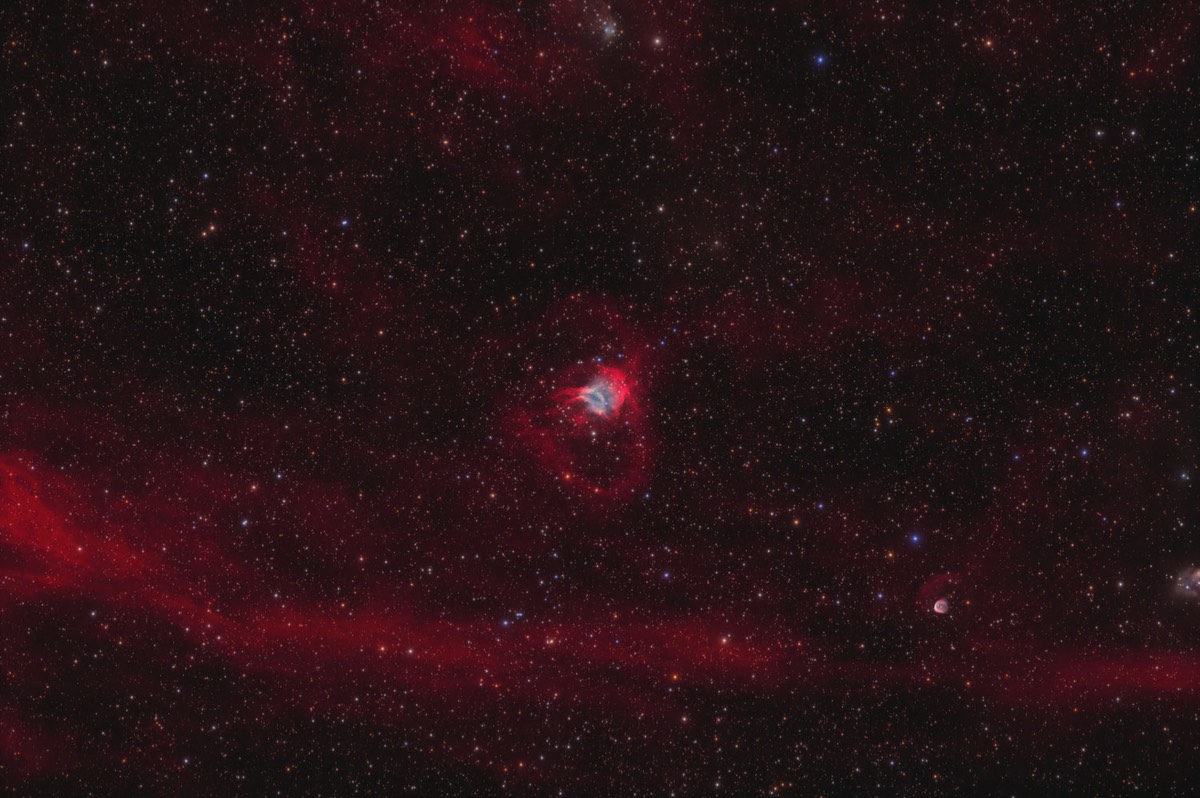 About this object
I'm excited to announce the first deep image taken of the potential planetary nebula Strottner-Drechsler 44 (StDr44) in the constellation Monoceros. StDr44 was discovered by Xavier Strottner and Marcel Drechsler in March of 2020. It lies not too far from the frequently imaged Sea Gull Nebula. StDr44 is the object near image center. This fascinating object takes on the shape of a heart so I thought appropriate to give the name of "The Heart in Monoceros". The data was sent to the Strottner/Drechsler team and the image above was expertly processed by Marcel Drechsler, one of the co discoverer's.

StDr 44 is very faint but shows emission in Ha and OIII bands. It's approximately 21x13 arcmin in diameter. Hopefully, in the future, this image will allow for professional spectra to be taken of this object unveiling its true nature.

Within the full image is a large area of Ha emission and several other objects.

On the lower right lies another "likely" planetary nebula with the designation PHR J0701-0749. It's much smaller and looks like a typical oval shell of gas that has been ejected from the host star. It also shows a fan shaped area of Ha emission which is brighter to its north. Near the center top of the image is the reflection nebula GN 07.00..7.

The image is cropped to highlight StDr44. Below it is the full field of view. The full field of view is available by clicking on the image and you can access the full resolution image by selecting the link below.

StDr 44 was imaged from 30 Nov 2021 through 13 Jan 2022. I used my Stellarvue SVX 152T with a ZWO ASI 6200 CMOS camera using 2x2 binning at a resolution of 1.28 arcsec/pixel. The image combines 35.6 hrs of exposure time.
Image Details
Optics

:

Stellarvue

SVX 152T refractor @f8 1200mm FL

Mount:

Paramount MYT

Camera:

ZWO ASI6200

Filters:

Chroma 50mm RGB and OIII, Astrodon 50mm 5nm Ha

Exposure (min):

RGB Ha OIII 195:200:200:800:740 35.6 hrs

, 2x2 binning

Automation Control:

The Sky X, Voyager, PrimaluceLab Eagle 4

Guiding: StarlightXpress Lodestar X2

Processing Software: PixInsight, PS CC, Topaz Labs

Location:

Stark Bayou Observatory, Ocean Springs, MS

Sky: Typical SQM 19.6-20.1, Bortle 5, Suburban

Date: 30 Nov 21 - 13 Jan 22